get started now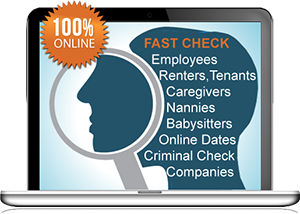 Best Bankruptcy, Liens and Judgments Background Check Service.
The Inner Workings of Our Background Checks
We are happy to answer all your questions about what's hidden in your background report - or anyone else's. Get peace of mind with instant online access to Social Security Number validation, law records, business records, address history, alias names, evictions, and all other expressions of background info.
Our background reports are easy to read and understand, and we lead the industry in accuracy and dispute resolution. Our highly trained, U.S.-based, English-speaking support staff offers expert assistance in correcting or disputing discrepancies. BackgroundReport.com accesses multiple databases instantly. Your background search results will be the most accurate and comprehensive available among all the major and minor companies offering these services.
Bankruptcies, Liens and Judgments, Company Business Credit Checks
We utilize the most comprehensive bankruptcies, liens and judgments databases available. These checks include the court name, case number, filing date, amount, and status of a bankruptcy, lien or judgment filed in courthouses nationwide. This and other searches are available with our expert level services. We also perform financial business credit reports and legal background checks for companies in business. Just as you can do a background check on a person, you can run a check on the financial and legal status of a company. This is a very valuable service for anybody determining the health and prospects of doing business with a company.
CHECK
YOUR

BACKGROUND
Select your
background
check package.
Enter
your identifying
information.
Pay the
screening fee.

We'll validate your identity and notify you when your background report is ready.

You review your background report, adding notes about any discrepancies, if necessary.
CHECK
THEIR

BACKGROUND
Select your
background
check package.
Enter
subject's email address.
Pay the
screening fee.

Your subject will receive an email with temporary password.

We'll validate your subject's identity and notify him or her when the background report is ready.

Subject reviews the report, adding notes about discrepancies, if any are found.

You are notified that the report is ready for you to review.
Ready for a Background Check?
With BackgroundReport.com, your subject reviews the report before you see it, and may comment on incomplete or incorrect information contained in their background check. Everyone is properly identified before background reports are released, to minimize the risk of identity theft. You can make your decision based on comprehensive, accurate information with a simple background check.
If you still have questions give us a toll free call or use our contact form for questions on how to get a background check.
get started now